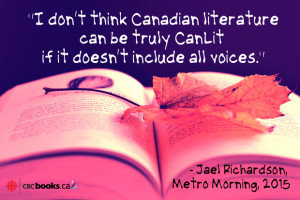 I have grown up believing that there are certain spaces for certain kinds of people. My father was a black quarterback and he was told on many occasions, in many different ways, at the height of the civil rights movement that quarterback was not a position for him.
As a writer, I have never heard those words exactly, but I have felt them. I read books by white writers in school – about white people in white spaces – and I came to believe that I was not meant to write or be written about. But when I met playwright Djanet Sears in university, she gave me an important bit of advice about what to do when you can't find the stories you're looking for about people who have lived what you've lived through: WRITE YOUR OWN.
So I did. And yet, somehow it felt like even after I was published, my voice didn't reach far enough, that the people who most needed to hear a story like mine didn't even know that it existed.
In May 2014, the social media campaign for #WeNeedDiverseBooks grew online. I watched people express why diverse books were so important. There were librarians and teachers who responded, as expected, but there were also young people and parents, men and women from dominant and marginalized communities who said they wanted to be able to read different kinds of books by different kinds of people.
But those books are hard to find. Those authors, authors like me and many others, are struggling to bridge the gap between their writing and their readers. It is not a thing of the past either. Last year, a popular bookseller told me that my book may not be of interest to his customers because the town he lives in is "very white" – as though white people are exempt from reading black stories. But we all benefit when we read a variety of voices – voices from people who live and believe differently combined with the voices of people who have walked a similar path of hardship and adversary.
These were the thoughts that prompted the birth of the Festival of Literary Diversity, the FOLD.
The FOLD will unite authors from communities that are underrepresented in literature. The roster will mix emerging, yet-unknown, and up-and-coming artists with renowned CanLit voices – writers who understand the inherent challenges of writing from the margins. The FOLD will not lament the hardships; it will celebrate victories and explore hardships and discuss progress. The sessions and workshops at the FOLD will dream a future where the FOLD's only unique element is that it paved the way for a similar level of diversity in festivals across the country.
In the next blogs, I'll talk about some of the choices we've made as a FOLD planning committee– why the festival will appear in May in Brampton, and why our three-fold approach is so critical. Sign up now to subscribe to our blog so you don't miss it.